So where do I even start? Today I woke up with an email from PayPal saying that I have an active dispute for $80. I go to investigate and find out that its from the owner of RuneAd (Aaron) 

I read the dispute and I'm shocked to see what was written:
Now if this was true he would have a point but the whole story and evidence supplied is fabricated:
Screen Shot 2020-09-21 at 7.13.39 PM.png
The next screenshot shows his discord server not showing a channel with the name RuneAd.
After this happened I was shell shocked and confused how is this possible? So I did a bit of investigating to see what the hell is going on and to my surprise, he actually fabricated proof and changed discord partner to $80 and gift card to $50. this was not the case when looking into the Admin Panel previous transactions this is what actually was paid:
$50 for Discord Partnership and $80 for a custom side banner
Evidence of what we discussed:
When I confronted him with the evidence of what we discussed and sent proof of transactions this is how he responded:
He blocks me then later unblocks me and the conversation continues and he states "he never used  it" directly after saying he only used it "once" (which is a lie) then continues to threaten\blackmail me:
I "agreed" to his blackmail to get him to cancel the dispute and in the end he comes up with a joke of an excuse:
But while RuneSuite was being "sold" we talked:
There is a big irony to the story and its that his banner\discord stayed up for an extra month because i forgot about it which is a total of $130 worth of free advertisement: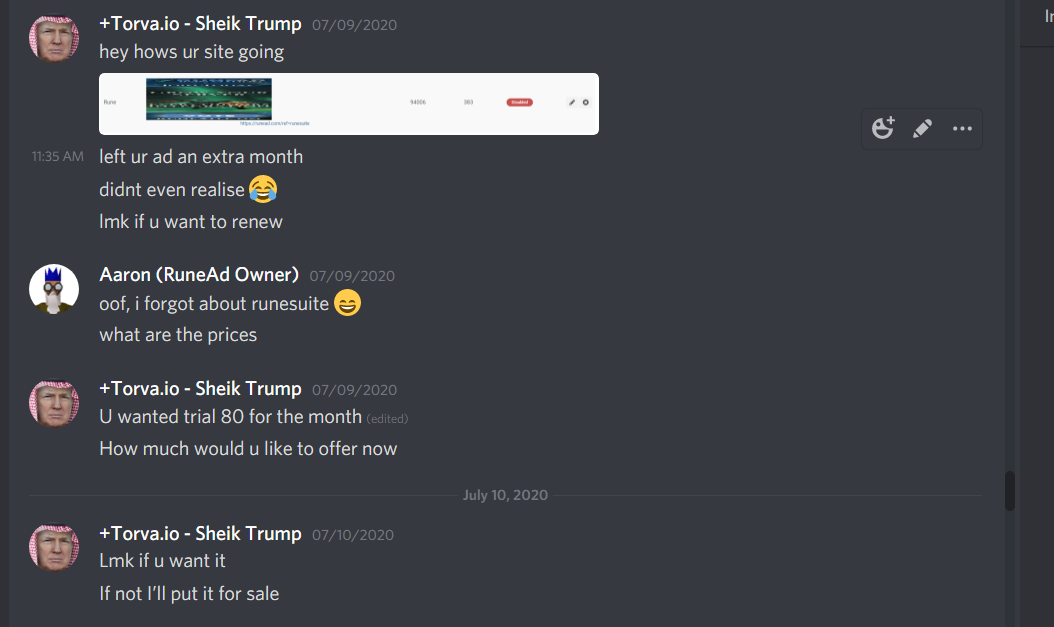 Special shout out \ thanks to King Fox for helping me out during this process: