1. Runelocus
RuneLocus, the well-known online resource and community for RuneScape private servers, since 2007. The place to be for anyone who is somehow interested in RuneScape private servers.

RuneLocus supports developers with the development and advertisement of their own game server, and help players find the server that fits their needs.
2. MoparScape
Moparscape is the oldest Runescape private server community. We have been active since 2007.

3. RSPS-LIST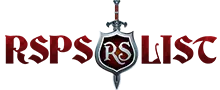 Looking for the best Runescape Private Servers 2018 ? Join our RSPS List, increase your website traffic and gain lots of players!

4. top100arena
Welcome to the RuneScape Private Servers, RSPS Top 100, the top sites list that is dedicated in showing you the best RuneScape Private Servers, RSPS gaming website links.

5. RuneSuite Toplist
Top RuneScape Private Servers! We showcase the best RS private servers and are one of the top RSPS lists. Find the perfect server to play or gain traffic for your server.

Located at https://toprsps.runesuite.org , Runesuite is an up and coming rapidly growing toplists with 47 pages of RuneScape private servers enlisted already!